Ronnie Radke, vocalista de Falling In Reverse, se encuentra envuelto en una twitter-guerra con miembros de la banda Get Scared y Craig Mabbit.
– Todo comenzó cuando Nick Matthews (vocalista de Get Scared) twitteó "Yeah… Adiós" seguido de la siguiente imagen: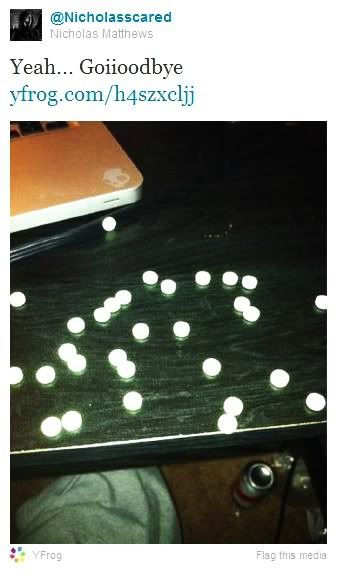 – Craig Mabbit, vocalista de Escape The Fate, inmediatamente respondió al tweet de Nick Matthew, rogándole a sus fans para que mostraran su apoyo.
"Todos, por favor twiteenle a Nick y díganle que el vale la pena, esto no es una broma!! no se que hacer :( RT (…)"
– Luego Craig Mabbit llamó a una ambulancia, lo cual parece ser que terminó salvando la vida a Nick Matthew.
– Mientras todo esto sucedía, Ronnie Radke twiteó a la novia de Nick Matthew, Jamie, que "se asustara" (Get Scared) [juego de palabras].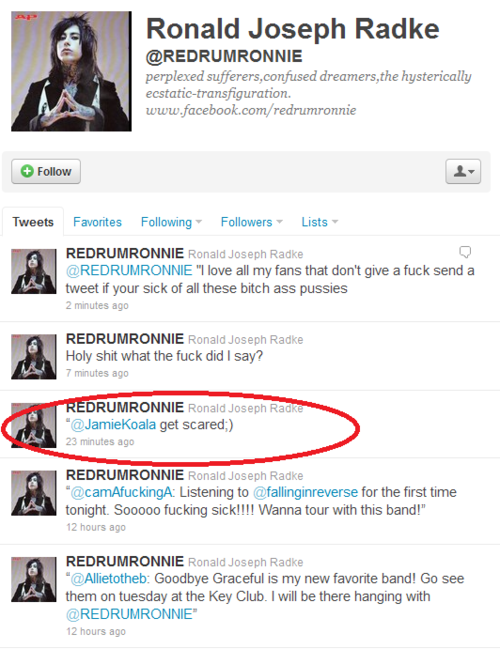 – Esto derivó en que fans de ambos lados comenzaran un escándalo, llevando a muchos a preguntarse por qué Ronnie Radke bromearía con el suicidio de alguien mas?.
– Otros salieron a la defensa de Radke argumentando que Nick Matthews fue irresponsable por twittear sobre su suicidio a todos sus fanáticos que de los cuales muchos son menores de edad.
– Ronnie Radke se mostró sosprendido ante las respuestas negativas de la gente ante su 'broma' twiteando lo siguiente:
Holy Shit, pero que dije?
Oh Dios mio, estoy taaaaan asustado!, No digan eso!, donde se fue todo el 'rock'?, vivan un poco y no sean tan serios.
@LelaTheLegend: Un consejo: habla mierda cuando tu y tu 'banda' vendan como Escape The Fate y Get Scared. [Ronnie]: Ya ocurrió perra, shut the fuck up.
Está bien hacer bromas sobre la sobre dosis de Amy Winehouse pero no bromear sobre un tipo que le twittea pildoras a los niños? fuck you.
– Johny de Get Scared respondió a los tweets de Radke en twitter mas tarde esa misma noche diciendo:
@REDRUMRONNIE deja de atacar a mi mejor amigo así no tendre que hacerle nada a tu cara!, en serio WTF?, Ve y causa drama en otra parte.
– A lo que Ronnie Radke respondió rápidamente:
Váyanse a la mierda tu y tu vocalista maricón. No le harás nada a mi rostro.
– De todas formas la noche parece haber terminado con un final 'feliz' después del tweet de Craig Mabbit intentando bajarle el perfil al asunto y de paso informar el estado de Nick:
TODO ES BROMA al lado de que Nick está bien en el hospital, muchas gracias a todos ustedes, y unas palabras de consejo? Nunca se hagan daño a ustedes mismos! Todos somos especiales.
Que opinan ustedes sobre Nick twitteando sobre su suicidio, la reaccion de Craig Mabbit y las 'bromas' de Ronnie Radke?.